BIRTHDAY parties (little ones to teens & grownups!)

Grad Nights & Weddings, Business Promotions

Family Reunions & SUMMER CAMPS

Schools: Events, Carnivals or Fundraisers

Bar / Bat Mitzvah,  COMPANY Holiday Parties

            YES! We're on the OC Regional Parks List

      NOTE: There is a small travel charge for performances outside  the OC.

FREDY the Magic Balloon Man


Fredy the Magic Balloon Man

Only $95 an hour (2 hr minimum)

Balloon Creations for one & all !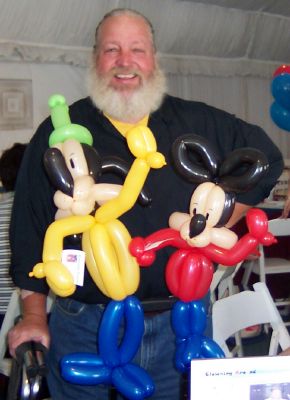 Back by popular demand !!

WOW! Package

For Birthday Parties Only

Fredy the Magic Balloon Man & People Painting by Chris

FREDY'S BALLOONS

& PEOPLE PAINTING by Chris

BOTH Performers !!

90 minutes  Only $195

Formerly known as:   CLOWNING AROUND ENTERTAINMENT, inc.

Here's just some of our events coming up

Benson Elementary book fair/Tustin   April 9th

UCI - NICU Event   April 12th

Merlin's Dinner Theater in Orange   April 13th & 27th, May 18th

Newport Coast Villas-Easter Event   April 19th

CHOC Hospital / inpatient cancer survivor event   April 30th

CHOC Hospital / outpatient cancer survivor event at Oak Canyon Park   May 4th

Commercial Door / company picnic at Carbon Canyon Park   May 17

HB Car Show in HB Library parking lot   June 1st

Alex's Lemonade Stand at Irvine Spectrum   June 7th

Tustin PD Open House   June 14th

University Park Library summer program   Tues. June 24th thru Tues. July 29th

Plus many private parties, kids parties, etc.