Fredy's still our main performer

A terrific professional Actor, Magician, awesome Balloon Artist and, of course, you won't find a more wonderful Santa Claus. His acting background is always a big plus for this. Fredy's still acting, too. Fredy's had a BLAST as a King MEDIEVAL TIMES Buena Park these past 8 years, but has now retired from this gig so there's more time for other things.

In 2007 we changed our name to MAGIC FREDY EVENTS Fredy wasn't doing "clowning" much  anymore as he was performing for anything from kids parties to Grad Nights to Weddings so, a clown doesn't fit. Crazy, colorful Hawaiian shirts took the place of silly clown costume & make-up. This fits more events & no worries about kids (or even grown-ups) who might be afraid of "clowns".

At the start, many people would ask "do you know where I could get a nice jump (or other ride or type of performer)?". We met many companies & professional entertainers when we performed, got their cards & would send people to companies we knew had good equipment & nice people at good prices. Soon we were booking everything from Jumps to Bands, Rides, Stilt-walkers, Jugglers, Ringling Bros. performers & so much more!

Many of the performers we offer are not just wonderful professionals but also, friends.

So we really know who we're sending & trust them completely to do the very BEST

for your party or event.

Wife Chris' background is in theater having been raised in a theatrical family & acted for a good many years. She also admits to being a bit of a "Hippie" & has taken that leaning plus her theatrical  training to perform as PEOPLE PAINTING by CHRIS. A bit like body painting with a story (for kids) thrown in here and there as she paints—she always says "it's not just the painting…. It's the performance!".  Great for little-ones to teens to adults!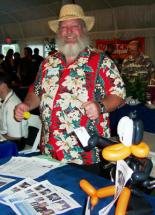 Husband & wife team Fred (Fredy) Ingels & Christina Carden-Ingels opened their business CLOWNING AROUND in 1991. Fredy came down to So. Cal. from Napa to work in film & TV, doing shows like "thirtysomething". In Napa he'd owned Clowning Around as a birthdayclown business which he loved, so he decided to start doing his clowning here in OC. Clowning Around was born. Loads of birthday bookings came in, even doing Santa at Christmas as he'd done since he was young.

We then added the word "Entertainment" to the name—hey, we'd become more entertainment than just "clowning".


A Few of our wonderful Clients

Laguna Sawdust &  Winterfest

Residence Inn - Garden Grove

                (Hospitality Entertainment)

Crowne Plaza  Hotel-Anaheim

                (Hospitality Entertainment)

Shady Canyon Country Club

Souplantation Restaurants

Starlight/Starbright Foundation

Mission Viejo Swim & Racquet

Orange, Taft & El Modena Libraries